Meetings & Events
We'll help you get it done right
We have a total of 13 function rooms, which can offer you a range of flexibility for any type of event you wish to organise. Each room is as charming as the next with their Art Deco ambience and allows for an abundance of natural light. They are perfect for any-sized meetings, conferences, seminars and private dining arrangements.
Event & Conference Facilities:
• Flexibility to cater up to 400 guests
• Full catering with dietary requirements
• Extensive F&B menus
• Conference Concierge
• Audio-visual facilities with an on-site technician
• Wireless Broadband internet
• Teleconferencing
• Wheelchair Accessible
Day Conference Package:
• Arrival tea and coffee
• Morning tea with the chef's daily selection
• Conference lunch at an onsite restaurant or working style
• Non-alcoholic refreshments with lunch
• Afternoon tea with chef's daily selection
• Whiteboard and Flipchart
• Pens, notepads, mints and water provided
• Room hire is subject to a minimum pax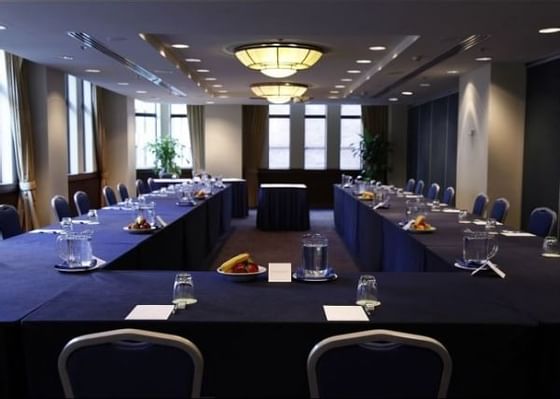 We are excited to offer your delegates more variety.
Details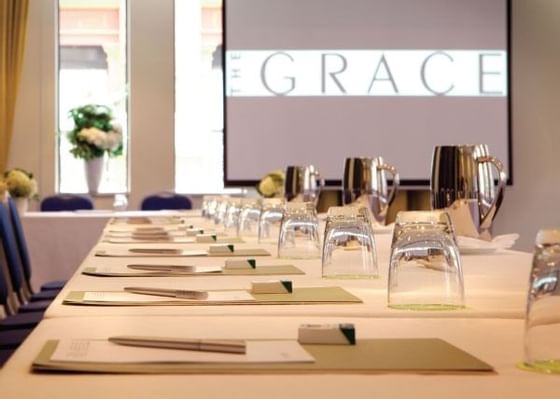 Livestream your conference via webcast to anywhere, anytime!
Details
Take A Virtual Tour Of the Venues
LEVEL 1
| | Meters | m2 | Ceiling Height | Boardroom | U-shape | Classroom | Theatre | Cabaret | Banquet | Reception |
| --- | --- | --- | --- | --- | --- | --- | --- | --- | --- | --- |
| King | 6.5 x 9.1 | 59 | 2.40 | 21 | 21 | 27 | 29 | 24 | 29 | 29 |
| York | - | 150 | 2.70 | 36 | 36 | 50 | 75 | 48 | 70 | 75 |
| Balinga 1 | 9.8 x 6.9 | 68 | 2.65 | 24 | 24 | 34 | 34 | 40 | 34 | 34 |
| Balinga 2 | 4.8 x 6.9 | 33 | 2.65 | 12 | 12 | 16 | 16 | 16 | 16 | 16 |
| Balinga 1-2 | 14.6 x 6.9 | 100 | 2.65 | 37 | 37 | 50 | 50 | 50 | 50 | 50 |
| Pinaroo 4 | 9.8 x 7.3 | 72 | 2.55 | 21 | 21 | 36 | 36 | 32 | 36 | 36 |
| Pinaroo 5 | 12.2 x 5.4 | 66 | 2.55 | 30 | 30 | 42 | 42 | 42 | 42 | 42 |
| Pinaroo 4-5 | 12.7 x 9.8 | 124 | 2.55 | - | - | 62 | 62 | 62 | 62 | 62 |
LEVEL 2
| | Meters | m2 | Ceiling Height | Boardroom | U-shape | Classroom | Theatre | Cabaret | Banquet | Reception |
| --- | --- | --- | --- | --- | --- | --- | --- | --- | --- | --- |
| Wilarra | 16.6 x 6.3 | 105 | 2.40 | 36 | 36 | 50 | 52 | 48 | 52 | 52 |
| Yurra | 13.0 x 7.0 | 91 | 2.40 | 30 | 30 | 40 | 45 | 32 | 45 | 45 |
| Marra | 13.0 x 6.1 | 79 | 2.40 | 30 | 30 | 40 | 42 | 32 | 42 | 42 |
| Kirralaa | 12.6 x 6.1 | 77 | 240 | 24 | 24 | 30 | 36 | 32 | 36 | 36 |
| Jarara | 6.4 x 6.1 | 39 | 2.40 | 12 | 12 | 12 | 19 | 16 | 19 | 19 |
| IIuka | 6.4 x 8.0 | 51.8 | 2.40 | 21 | 21 | 25 | 25 | 24 | 25 | 25 |
| Wilarra-Jarara | - | 411 | 2.40 | - | - | - | - | - | 205 | 205 |
| Wilarra-Kirralaa | - | 354 | 2.40 | - | - | 160 | 177 | 160 | 177 | 177 |
| Wilarra-Yurra | - | 202 | 2.40 | - | - | 90 | 101 | 88 | 101 | 101 |
| Wilarra-Marra | - | 275 | 2.40 | - | - | 130 | 130 | 128 | 130 | 130 |
| Yurra-Jarara | - | 286 | 2.40 | - | - | - | - | - | 143 | 143 |
| Yurra-Kirralaa | 12.6 x 19.2 | 247 | 2.40 | - | - | 78 | 78 | 78 | 78 | 78 |
| Yurra-Marra | 13.0 x 13.1 | 170 | 2.40 | - | - | 80 | 85 | 80 | 85 | 85 |
| Marra-Kirralaa | 12.6 x 12.2 | 156 | 2.40 | - | - | 70 | 78 | 72 | 78 | 78 |
| Jarara-IIuka | 6.4 x 14.1 | 91 | 2.40 | - | - | 45 | 45 | 40 | 45 | 45 |
ILEVEL 12
| | Meters | m2 | Ceiling Height | Boardroom | U-shape | Classroom | Theatre | Cabaret | Banquet | Reception |
| --- | --- | --- | --- | --- | --- | --- | --- | --- | --- | --- |
| Alklra | 6.1 x 9.5 | 58 | 2.40 | 24 | 24 | 29 | 29 | 29 | 29 | 29 |